APCO PIPE FITTINGS Co.,Ltd. Changchun, China

Apco Pipe Fittings Co., Ltd. – A British and Chinese Joint Venture has been a professional manufacturer of 1/2" to 80" butt welding elbows, tees, crosses, reducers and caps in carbon, alloy and stainless steel.
Presentation: www.apcopip.equip4ship.com
Address: China, Changchun, 130061 No.169,Puqing Road,Tianting Building 6 Floor,Changchun
Contact person: Commercial Department ,e-mail, website
Phone: +86-431-88525522
Fax: +86-431-88546621

unselect all/select all
You have 0 products selected
Steel Flanges
Send enquiry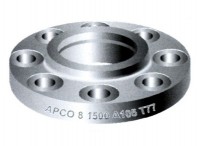 APCO uses only high class raw materials of carbon/alloy steel pipes made from NKK or MANNESSMANN equipment for ordinary, high pressure, low/high temperature, boiler and other purposes.